Have you ever wanted your child to create a web page using HTML, but didn't know where to start? Have you ever seen those 'New York Telephone Directory' sized HTML books at your local bookstore or library, and were totally intimidated by what you saw??
Brian Richardson, a middle school computer literacy teacher and technology expert, makes web designing (which to me looks very complicated) easy as pie. I love technology, but the source of it is beyond me—I just know it works. As a novice blogger, I love to change my background on my blog and get different widgets to make my blog look 'cool.' But like most people—I saw 'get the HTML code here' and just copied the code without really paying much attention to it and use it with no second thoughts...
But after my son and I viewed this DVD, we both have more of a basic understanding of HTML and Coding. This DVD is easy to use and view. Brian, the instructor, is a quirky guy (must be smart!)–he had us entertained throughout the DVD.
He has 7 lessons to the DVD which are:
 Ten Basic Lines of Code
 Sandwiches and Colors
 Make Subject Stand Out
 Stand Alone Tags
 Designing Backgrounds
 Fonts and Paragraphs
 Pictures

Also, there is a Bonus Section
 File Cabinet Management
Also included, is a section that tells the buyer what Charities proceeds go towards by buying the DVD. Web Design for Kids (…and Curious Grown-Ups) is from Click Drag Solutions and the website for this product is
here
.
Our Family take on this Product:
You can view below to see my oldest son's webpage design. He really had a blast with it. Just by using this DVD, Notepad, and HTML he created his first Web Page! To make it easy on us - we used a portable DVD player and my Laptop side-by-side so that (we) could follow along with Brian and then simultaneously create his webpage. Brian made it easy and 'cues' the DVD audience to pause the video for individual work.

As a curious Grown-Up, I loved to follow along…and my son even had to 'correct' me with some of the codes! It was an interesting time and we both learned a lot from watching this DVD. I highly recommend it if you want a starter on HTML. Although we are not computer experts after watching this, (BTW-he doesn't claim we would by the end of the program---guess we have to watch the next DVD!), we could understand some basic codes that make up a Web page. What I liked about the DVD, is that between instructions, Brian had little FYI moments; he showed us how GOOGLE's webpage source code looked like, how 'code experts' use numbers instead of the words of the colors being used, etc. etc. He also threw in a couple of jokes…mainly for the children. My son loved the one, "Why did the student eat his homework?"

Overall, it's fun, easy, definitely for beginners—and it fit our needs perfectly. BTW, I still love readymade HTML codes-no offense Brian!

Links for your convenience:
You can view actual websites created by other students
here
.
To view a clip of the DVD, please go
here
.
If you want to view other testimonies you can go
here
to view them.
Frequently Asked Questions, please visit
here
.
Order the DVD!
50% Off
Summer Special!
(Limited time only.)

(Original DVD Price:$40.00)
Special Price: $19.99
(Plus $3.99 Shipping & Handling)

(Money Back Guarantee!)
Two ways to order:
1.
Online
2. By phone: (Toll Free: 1-866-932-9122)
Learning Basic HTML to create a Web Page was fun and exciting!! Go and create your OWN WEBPAGE! (CLICK ON WEBPAGE TO SEE IT ENTIRELY!) Thanks for reading! :)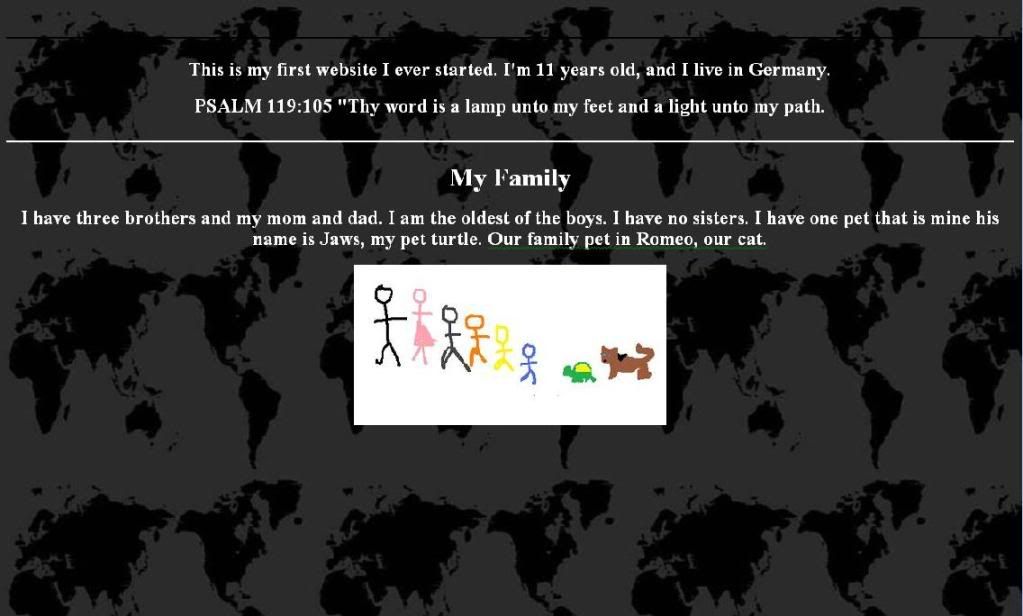 To view other reviews on this product and more, click on icon: